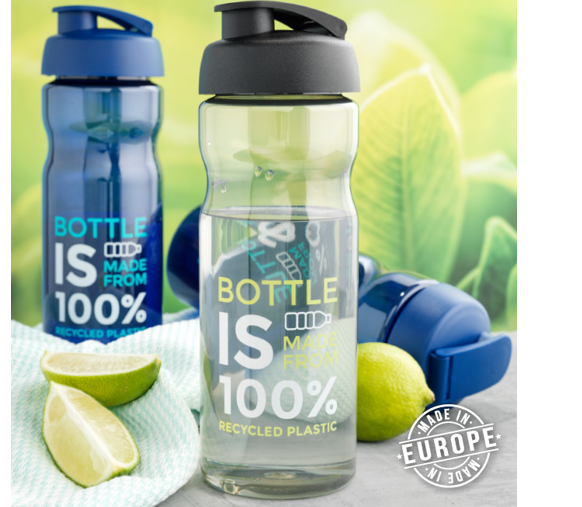 Eco promotional gifts, i.e. environmentally friendly items – is it just a modern buzzword or do they really protect the environment?
On paper, environmentally friendly eco gifts sound good, but unfortunately there is often no real benefit behind the words: some part or detail of the product is recovered, but the production process as a whole, the origin of materials and other significant factors are unknown. As our product range is made up of the options of many suppliers, the approaches of the ranges differ as well. However, in the case of our primary suppliers, we can confirm that the past few years have brought a lot of changes and a great deal of emphasis is placed on being eco-friendly. As a result of hard work, several product lines are now fully eco-certified, using environmentally friendly paints and emphasising reusable products and their long lifecycle. Let us explain some of the main eco product lines that we can offer you. Also, we always encourage you to ask for more information!
We primarily focus on four aspects when it comes to products
Firstly, that the products are made of recovered materials whose origin can be traced.
The second criterion is to avoid materials, such as PBC, that are hazardous to the environment and the user, and to use as little plastic as possible in the product.
Thirdly, the eco-friendliness of the production and printing processes.
Fourthly, reuse, i.e. that the products have a long lifecycle and replace single-use products like a fabric shopping bag replaces plastic bags or a thermal mug replaces single-use coffee cups.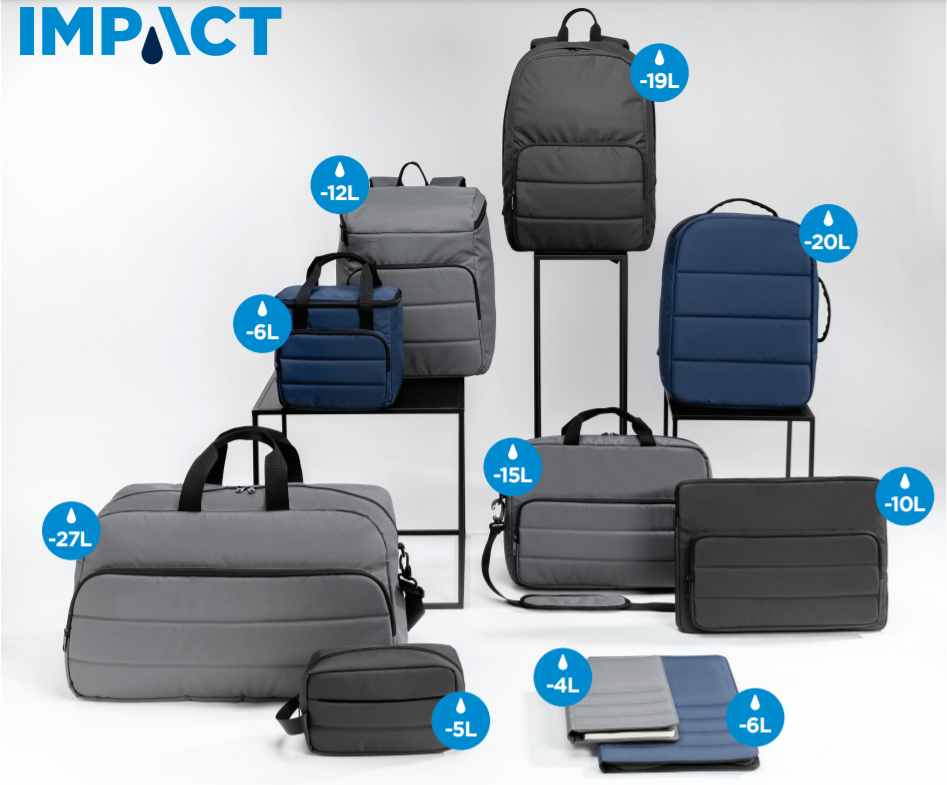 Impact
The impact series focuses on having a positive effect by, first and foremost, reducing water consumption. Water consumption in this case does not mean drinking water, but water used in production processes and the recovery of materials throughout the production process. In addition, 2% of the sales revenue of every product in the Impact line is donated to the Water.org organisation. We believe that sustainability begins with transparency, which in turn is connected to the ability to monitor various processes.
Why water? Water is a global issue, from the melting Arctic to the dried up remote areas, and its consequences can be found all over the world. Given the lack of sufficient and ready-to-use water, 50% of the world's population will experience this so-called water stress by 2025. How can we alleviate this issue? The answer is very simple: by recovery. By using recovered polyester and cotton, we are saving thousands of litres of water.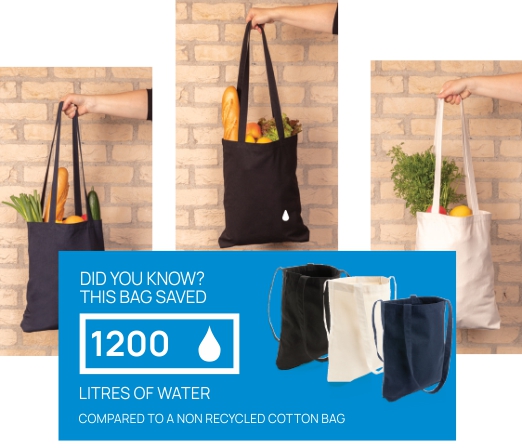 How do we ensure that the products are made from recycled materials?
In this regard, we are helped by the AWARE™ technology, which aims to prevent greenwashing in the industry and prove that recovery is real. In order to produce fabric, plastic bottles are crushed and recycled and cotton that has a Global Recycling Standard certificate and that is left over from the production process is reclaimed. AWARE™ micro particles are added to this mixture, which give the produced fabric a unique fingerprint. The crushed fabric is made into yarn, after which the first scan takes place in order to identify the AWARE™ particles and, if present, the digital token is registered in the blockchain. There is one AWARE™ tracer per kilogram of yarn. The next step is producing fabric from the yarn and a product from the fabric, after which the tracer particles are again identified and a relevant document is issued. Thanks to this process, we can be sure that the manufacturing of the product has been authentic from start to finish, and this is how a fully traceable polyester and cotton gift collection is created.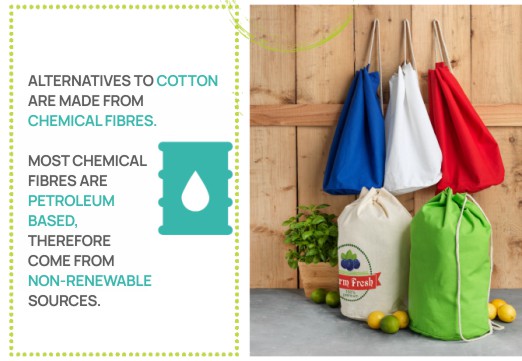 Transport
One way to be environmentally friendly is to prefer environment to speed. A good example of this is ordering samples. Even though our showroom has thousands of products, it is often necessary to order additional samples. In 2020, we reached agreements with several suppliers so that when ordering samples, we can choose between air and ground transport. Timewise, it means a waiting time that is 2–4 days longer, but with each shipment we save around 3.3 kg of carbon dioxide. This may not seem like a lot, but considering the number of samples per year, the overall amount is quite significant. In order to reduce it, one of our primary suppliers, in collaboration with the Trees for All organisation, plants a tree for every 10 samples they ship. It is precisely such partners that we really value working with, so that changes are global and take into account countries with higher consumption. So the next time we order samples for you, let us discuss how quickly you need them, so that we could work together towards a greener future.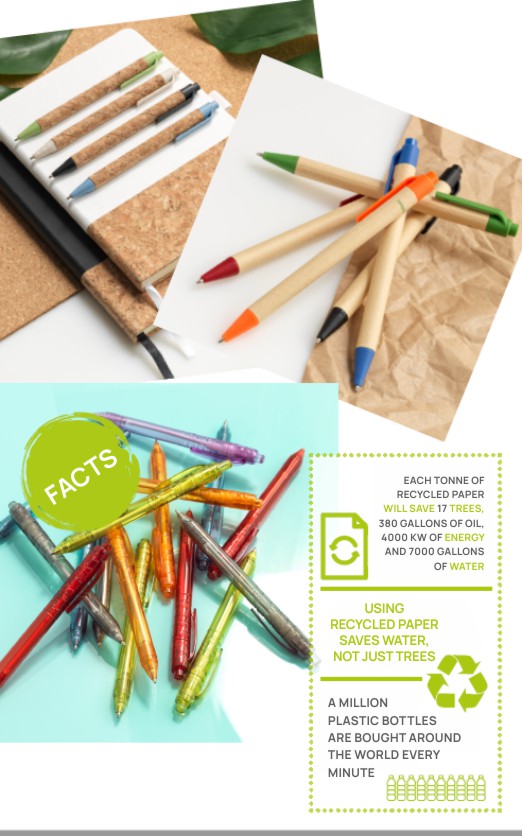 Which materials do we primarily recommend?
Wheat straw
Wheat straw is a residue of wheat harvesting. It is a strong and lightweight material that helps to replace plastic. It is used, for example, to make pens, lunch boxes and sunglasses.
Glass
A large amount of glass can be recovered indefinitely without it losing its quality. Many water bottles and other drinking vessels are made of glass.
Recovered plastic
Why not make reusable plastic bottles from single-use bottles in order to reduce their use? This is exactly the solution we are aiming for when recovering plastic, which can be used to produce a wide variety of products.
Recovered paper
Recovering paper has many benefits. In doing so, we not only save trees, but also energy, water and oil. For recovered paper, we primarily offer pens and notebooks.
Bamboo
In order to protect forests and avoid producing plastic, using bamboo is a great alternative. It is a biodegradable and extremely fast-growing grass, which also rapidly restores forest mass. In regards to its qualities, it is very strong and durable and is also nowadays used to make textiles, which are elastic and offer good protection against cold and heat. You can find a lot of gifts and consumer goods in our product range – from technical products to shirts – that are made from this wonderful plant.
Recovered cotton
Cotton is the most common natural material, which is used to satisfy the world's textile demand. Additionally, it is possible to make textile products from bamboo and, after cotton, jute is the second most commonly used material. Next to recovered cotton, which is primarily used to make shopping bags and backpacks, most clothes are made of organic cotton, which you can read more about here.